I
come to you with a troubling post today. Some may dismiss it as being just too "sentimental" or dismiss me as someone who just needs to lighten up and not take life so seriously. Perhaps many of those who have not spent countless hours on the same old Harley over long periods of time (time measured in decades, not years) will not feel the same. But if you have ever owned, ridden, and lived on/with the same bike for enough time, then you too will likely have formed a bond with it. That bond is often forged while tuning and repairing, repainting and rebuilding the same bike over and over through those many years of ownership; or should we say years of partnership? How often have you heard a fellow enthusiast refer to his motorcycle as his "baby?" Is it any wonder that often the feeling that the machine is more than just the sum of its many mechanical parts is expressed by the bestowal of a name. But even those not predisposed to naming their bikes often wind up feeling that their "old friend" has taken on some type of life of its own, or at least some sort of mystical mechanical soul. I know you guys are out there, because some of you have brought your bike's engine parts to me with the confession that you are VERY careful about to whom they will entrust the internal organs of their pride and joy. Yes, it is plain that many old time bikers would probably, in a moment of sentimentality, wax poetic and confess that there just might be something to the whole idea of old Harleys having a soul.
And
that is what makes the subject of this post troubling. I would like to address is what seems to be an increasingly common practice of "parting out" complete and running condition vintage Harleys.
Though
it is certain that there have always been back alley operations involved in the dissection of old Harleys, the practice has become more lucrative recently with the popularity of the eBay worldwide marketplace. Given the ever increasing price of vintage Harley parts, I suppose it was bound to happen. It seems that some individuals have found that some old Harleys are worth more in pieces than as a "project" bike, or "basket case" as we used to call them.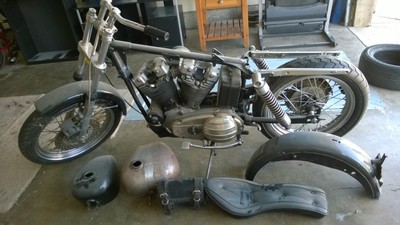 This
practice of parting out viable Harleys recently came to my attention via the aforementioned eBay. One need not search too deeply under Antique, Vintage, Historic in the Motorcycle Parts category to find one. Often the purveyors will be so blatant as to include an admission in the advertisement to the effect that they are parting out the motorcycle so be sure to check their other auctions for the rest of the parts offered. And we can mourn one more vintage Harley which was once someone's 'baby" that will never again feel the wind of freedom against its headlight. The callousness these butchers display as they calmly admit to their profiteering while offering up the parts to the highest bidder is beyond the pale.
Frankly
, I find the practice not just troubling, but a bit disgusting as well. Here is an undercover video that sheds much light on this horrendous practice:

Okay
, if you took the time to view the video, you have realized that it is not about parting out
old Harleys
, but about something infinitely more wicked; parting out
new babies
. If you could read my post leading up to the video and have the slightest feeling of agreement, then how much more should you be totally outraged by the practice of Planned Parenthood in not only murdering babies, but then going the extra mile on the road to hell in profiteering from their now lifeless bodies.
It
is true enough that we should be far more outraged by the killing of these precious souls than we are by the ghoulish selling of their body parts, but perhaps we have become too complacent with the evil that has been among us since 1973 when the Supreme Court legalized the murder of these babies. Maybe the new revelations of depravity will temporarily be shocking enough to force this nation to turn back from its wicked course. If you are
not
a Christian, and you shrug your shoulders at this sale of dead baby parts, then you are heaping coals of fire on your already sin laden head. If
you are
a Christian but you are too busy to spend a few moments fighting this spiritual wickedness, just how do you plan to explain that before the judgment seat of Christ? All I ask is that every one of you who are men of conscience take a few minutes to do something, whether it be contacting your elected representative, passing this or similar articles along via social media, sending links to your friends and acquaintances, or praying. We all need to do something to not only denounce, but to stop this barbaric practice of child sacrifice.